Literoof - Asphaltic Roofing Sheet
Literoof, the largest selling asphaltic roofing material in Asia, is a world-class product developed with advanced technology, and caters to the high demand for quality roofing at affordable cost. Made from bitumen saturated organic fibres, it comes as a light weight and low-cost solution, and has assumed the role of roofing materials for all kinds of building and structures. Its unique characteristics and its proven strength and durability have made it an all round performer and the first choice of consumers. Technical innovation and high performance have helped Literoof find its way to the top, where it stays the right answer to all roofing needs.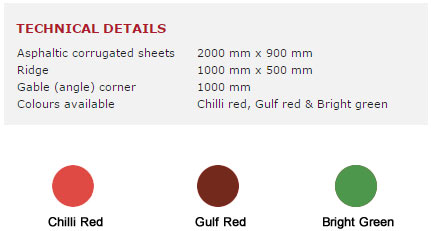 Laying Instructions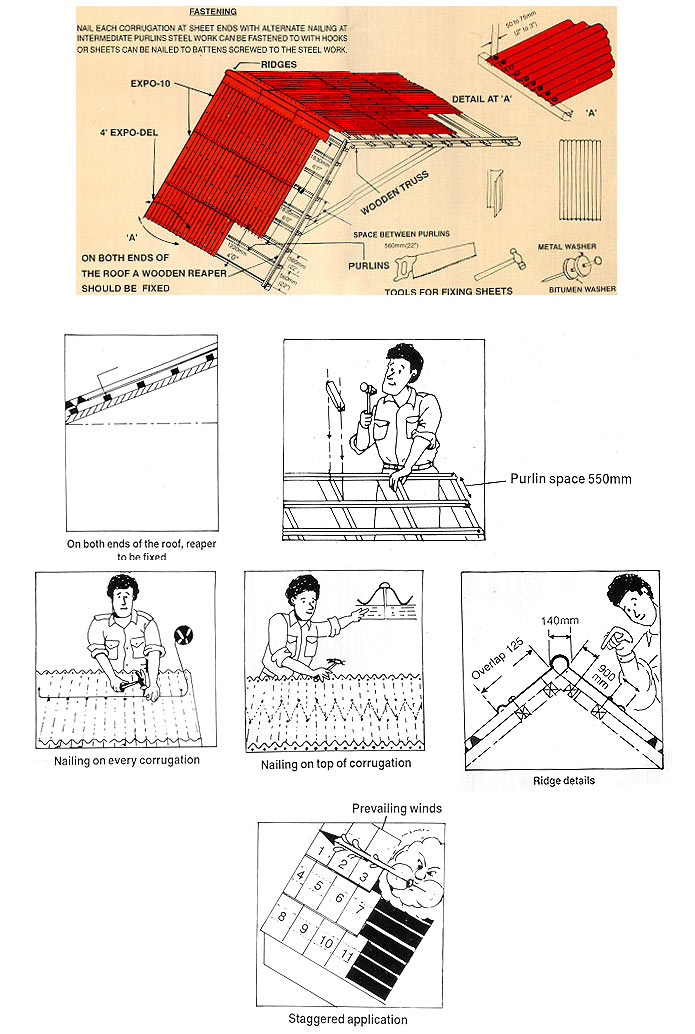 Features
The standard size of sheet is 2000 mm x 900 mm and shall weigh approximately 5.5 Kgs. The sheets are available in Chilli red, Gulf red and Bright green
Roof ridges of size 1000 mm x 500 mm and Gable (angle) corner 1000 mm are also available in matching colours
General Tests
Accelerated weather and ultra-violet radiation. Showed minimal or no change and colour fast rating.

Strength and Impact Loading : Tests showed adequate load-bearing capacity.

Water and Weather Proofing : Showed excellent weather-proofing characteristics. No change even under alternate extremes of weather.

Water Absorption : Minimal absorption. Performed excellently in moisture and vapour transmission and showed no effect when immersed in water for 48 hours.

Heat Deformation : Suitability tests up to 50±20C proved complete suitability in severe humidity and all foreseeable conditions.

Thermal Resistance : Excellent thermal resistance, K value 0.46 to 0.51.

Wind Lift : Suitable in hurricane and earthquake conditions. Stable at wind speeds of 120 mph, as per our proxy specifications.

Applications
Literoof has established itself as the ideal choice for all kinds of establishments like theaters, dairy - farms, poultry- farms, schools, factories, canteens , motor-sheds, garages, commercial and residential buildings, in urban as well as rural areas. The following outstanding features have contributed to make Literoof what it is today - the right alternative.

Light - weight : Light - weight, the greatest asset of Literoof makes it easier to handle, fix and transport. It also avoids the use of strong base material, thereby reducing the complexity of all the structures.

Flexibility : Flexibility enables ease of handling and fixing, and makes it the right choice for curved roof-tops and irregular surfaces.

Durability : Strength and durability are innate to Literoof. Its high stress-bearing capacity and resistance extremes of weather makes it the most reliable material. Further, it is also leakproof, rust proof and termite-proof, which enhances its performance.

Safety & Hygiene : Literoof it is very safe to handle and work with, and poses no health hazards to humans.

Economy : Literoof is instrumental in cutting down the total structural cost due to its light-weight and low unit cost. Further, its ease of handling and easy availability reduce incidental costs on fixing and transport. Literoof is especially the favourite choice for low-cost structures like farms, cattle houses and poultry-sheds.