PET Fencing Net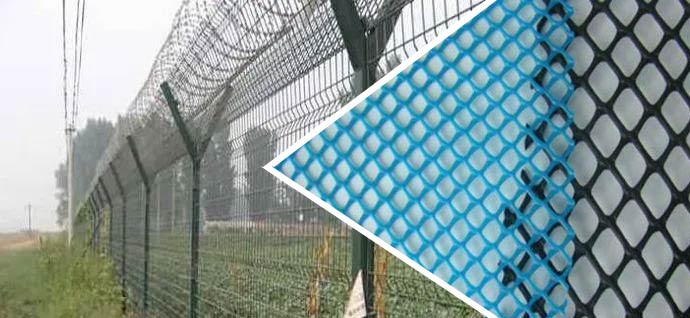 PET fencing nets are ideal to prevent wild boars, cows, goats and such crop destroying animals from entering in to your farm house. These nets are made up of highly durable Polyethylene terephthalate to last at least 10 years. Unlike normal metal fencing nets, which comes in variable thickness, PET fencing nets are being manufactured to ensures the same 2.5mm thickness in its whole fencing surface. Metal fences will easily erode when used in sea side area, but PET fencing nets will withstand salty sea side climate and heavy rains and thus makes it ideal for all types of fencing needs in our country.

PET fencing net is much economical than metal fences. It is also easy to clean off paint & other types of stains from it. ASB offers PET fences of good quality which are UV stabilized for long lasting.

ASB offers UV stabilized 2.5mm PET Fencing Net in black color having width 4ft, 5ft, 6ft and 10ft and available in rolls.



Advantages
Best fencing to prevent farm from wild boar attacks.
Found to last atleast 10 years.
Ensures good air flow, does not totally block out the fenced area from the surrounding area & fresh air. This quality ensures that the enclosed area does not end up smelling foul.
PET fencing net for plants can withstand & protect structures & plants from harmful UV rays.
The process of installing a fencing net fence is very easy & does not require much time.
Water resistance is the most important quality of a PET fencing net. This quality helps it withstand the after-effects of mild or heavy rainfall.
Rust free poles are another added advantage of PET fencing net. The material used in making chain link fences is also resistant to rust since it is well galvanized and coated with high qaulity PET material.
PET fencing nets are resistant to fungus. So you need not worry about them coming in contact with water & degrading.
PET fencing nets are ideal for sea side resorts, farm houses and plantations.
PET fencing nets has same thickness in its whole surface unlike metal fences which is having varying thickness in its surface.
PET fencing nets are available in a wide variety of sizes & colours to suit your needs.
PET fencing nets are strong enough to prevent animals from entering an enclosed property.
PET fencing nets prices are affordable.
PET fencing net is skillfully made & is free from wrinkles giving it a neat look. The net is also made to look uniform from both sides.